Thursday, December 09, 2010

You've read about veteran domain innovator Rob Grant on DNJournal and also heard his story told on DomainSuccess.
What you haven't heard is that he has inked a white-label partnership with Epik to breathe new life into his prized portfolio of category defining "cheap.com" domains - Names that have been lying in wait for over 10 years until the right combination of time and technology offered an opportunity to exploit their potential. The time is now, in our currently troubled and deal driven economy, and the technology is Epik's portal and eCommerce platforms that are perfectly suited to it.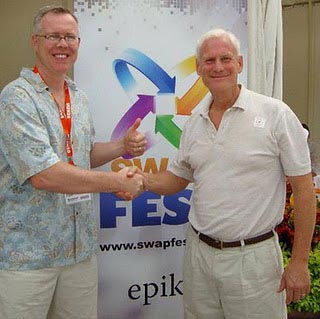 By cheap domains, I mean CheapCurtains.com, CheapPillows.com, CheapFlooring.com, CheapBlankets.com and 100's more. "Cheap" is a word frequently clicked on by savvy comparison shoppers who are actively looking for bargains. These visitors convert well to clicks and sales...And when they find something they like, they spread the word fast creating a multiplier effect. (Photo: Rob Grant and Epik's Rob Monster by Barbara Dillman Neu)
Starting two months ago with an initial launch of 50 portal names and a signature Epik solution that can be leveraged to other owners of "cheap" ecommerce domains, Rob has already seen significant 300% improvements (week over week) for domains operating on the new Epik platform. If this pilot program performs well, Rob has plans to launch over 100 Cheap portals over the next 12 months rolling out an ambitious Cheap Shopping Network in hundreds of product categories.
An Evolution With Epik
Rob Grant is one of the earliest domain pioneers, having acquired about 8,000 domains since starting in 1996. From BeverelyHillsRealEstate.com to upscale-upstate New York's AdirondackRealEstate.com, he's helped define successful real estate domaining, most recently signing partnerships with offline real estate leaders such as Sotheby's, who understand that Rob's online brands are as powerful and valuable as their carefully crafted corporate brands.
Rob realized it was time to tap into another segment of his diversified portfolio. But how?
"There is never any clear choice or simple road map to follow when you are starting down a new path " Rob says. "But it feels good to move forward and to be on the offensive, especially in such a difficult economy when so many businesses are failing."
So Rob chose Epik, and although its still quite early in the game, he's glad he did.
"Epik has devoted a team of very bright people to help us," he says. "We are learning on the fly and making adjustments to stay on course. Our goal is to grow in stages. Our first stage is the current product portals that have just been launched. Second stage will be drop shipping with select vendors and manufacturers. The third and final stage will be full blown e-commerce for those sites that qualify. Obviously, this third stage is extremely complicated and involves buying and warehousing product from overseas for each of the niches defined by our domains. At this point, we're a long way off from tackling any of these issues. Our goal right now is to get the first 50 sites launched successfully and then see which domains turn into real winners.

It All Starts With A Great Domain
If you take a good domain, build it out with the right product, with good service, and of course the best possible pricing that delivers on your 'cheap' promise, then people will bookmark it and come back again and again and over several years you'll establish a real brand that serves people's recurring needs. With the "Cheap" domains especially, we have this opportunity to create a real franchise where people can go to find their favorite products...for cheap"
None of Grant's sites have been sidelined by Google. Rather, they have been aided by Google to achieve rapid growth in search result rankings and high volumes of search traffic far beyond what they produced in ten years of parking. On one domain, Rob has seen over 300% increase in traffic and revenue. Established in September, it started to get ranked in October, then hit page one-third position in November. It has grown from a dozen to 712 clicks and increased in weekly revenue from pennies on parking to $17 initially on Epik and now $46 a week on just one domain.
Margins Are Insanely High, For Those Importing Goods
Rob doesn't expect that he can sit back and have these results continue on autopilot.
"You have to become involved in this process on a day to day basis," he says. "PPC told me these domains had a heartbeat. I saw 10 clicks, consistently, now I see 100. The net is about disintermediation. For manufacturers with products to ship overseas — and there are plenty of them — a web address can become a global outlet. I am researching product manufacturers via Alibaba.com and other sources and working hand in hand with Epik to take the next steps."
"It's a huge leap from being a passive parked domainer who simply checks stats every night ... to the not so distant future where you may be dealing with things like product fulfillment and making deliveries on time from China and whether a customer's curtains will arrive on time.
But if you want to stay on the forward edge of this industry and achieve the highest possible value for your assets, then you need to take the lead, do the research, commission the content, and stay constantly informed about the business category."
What Rob means is no longer reading just domaining industry media, which got you to this step, but reading Internet Retailer and home design magazines to learn how people shop for curtains and pillows, because that's the business you're in — not buying domains.


Delivering on a Brand's Implied Promise
For Rob, it's worth the time and money to test Epik's innovative White Label program and to explore every possible avenue for his portfolio.
"At the moment, our industry is in real turmoil with collapsing PPC revenues and a general lack of direction" confided Rob, "I am responding as quickly as I can to this new and very dangerous environment. Starting several months ago, we began a massive editing process that has purged the portfolio of hundreds of marginal and 2nd tier domains. For me personally, this means making some tough but necessary decisions about eleminating domains that other people no doubt find valuable (and that auto-appraisers like Estibot assign pretty high values to). But these are extraordinary times, and for me, the measurement of value today is whether I see a name that defines a category and whether I can own that category as a business."
To that end, Rob is now testing high value domains on the Epik platform like TropicalFish.com, ShipModels.com and ChristmasWreaths.com — Names that were all wasting away on PPC with 10 type-ins a day, but that are now proving worthy for full development with 10-times better search performance and pages that can deliver what customers are looking for with the potential to generate significant sales as mature ecommerce portals.
"Do you know how many Christmas wreaths are sold between mid-September and Christmas?" Asks Rob. "Savy retailers like LL Bean know and that's why its serious business for them and others. With ChristmasWreaths.com and its sister site, ChristmasWreath.com, we can dominate this unique market and become the leading brand that people return to year after year. That's a very promising opportunity that Epik's platform can play a strategic role in."
"We know the next several years won't be easy," he adds. "Our game plan is going to keep changing as this economy and market continue to change. We need to adapt to stay ahead of the pack. Our focus right now is on development. It really does surprise me that there has been so little innovation from PPC companies as the roof caved in on top of them. So Epik is the best alternative right now. Its a brand new company with exciting promise...And its led by smart people who care about their clients and partners. It also doesn't hurt that Rob Monster's got skin in the game, staking his name and reputation, as well as his portfolio on the Epik gamble."
Grant's Advice For You: Build A Brand In A Unique Niche With Broad Appeal
Rob has seen what he calls "pivotal points" in the domain industry since he became a domainer in 1996.
"I started buying domains back in 96. Back then nobody really knew what a domain was. The internet was emerging as a new platform. So it was based more on a hunch. There were no search engines in the early days so the only way to navigate the internet was intuitively - My instincts told me that a domain name had all the right qualities and attributes of a powerful and very intuitive brand.
Well, it turned out to be a good bet - But I certainly had no idea it would take almost 15 years to get to where we are today.
And throughout these long 15 years, I've seen good times and bad. And the last bad episode was really ugly - triggered by the tech bubble collapse in 2000 - 2002. A lot of portfolios got blown out of the water and a lot of folks gave up on domains all together.
It was a game changer and it brought a new breed of investor in and saw a lot of the old school bow out.
For people who hung in there, the gamble payed off handsomely. We eventually got through it and saw a new period of prosperity. But right now, it feels like DejauVu all over again...And its real bad"
As Rob sees it, we've reached another pivotal point in domaining: a paradigm shift in which the PPC model collapses and new business models like Epik emerge.
"It means that you need to adapt or gone down with the PPC ship," he says. "Investment quality domains need be developed to realize their highest and best value. This is just another necessary chapter in the evolution of the Internet as a marketplace. Today you can quickly build companies out of what would otherwise be passive domains; and for me its the next logical step."
With change comes uncertainty. "A lot of guys will be scared as their revenues drop and their registration costs eat them alive. Its easy to become paralyzed with fear," Rob says. "And I think a lot of us are still in denial because things have been so comfortable for so long...And we somehow hope that things will get back to 'normal'. But the truth is, they won't -We're seeing catastrophic declines of 50% or more in ppc revenue...and that's the new paradigm. Its a lot like the newspaper industry hanging on to the very end as their ship sinks around them".
"When things get this bad, honestly, it's not even a risk any more to leave the ppc model behind," he concludes. "I'm sure the ppc companies will continue to throw their lavish parties at the domain conferences and assure you that everything is fine, but the music you hear is coming from the deck of the Titanic. Don't be fooled, we're sinking fast."
For domainers who want to generate real return and value on their properties, it all boils down to a simple question: What is your long term vision and what are you going to do with your portfolio?
With Epik powering the technical side, and with partners available worldwide to provide products that match your premium domains, the answer should be obvious. You can do nothing and die - or you can do what Rob and other savvy investors are doing and adapt to these changing times... and ultimately emerge even stronger.


click here to go to website
Cheap Shopping Network


cheapadirondackchairs.com
cheapadulthalloweencostumes.com
cheapaircompressors.com
cheapairconditioners.com
cheapairfarestolasvegas.com
cheapairlineticketstolasvegas.com
cheapalcohol.com
cheapallinclusivecruises.com
cheapamsterdamapartments.com
cheapatvs.com
cheapautobodyparts.com
cheapbabyequipment.com
cheapbabygifts.com
cheapbackpacks.com
cheapbassboat.com
cheapbassboats.com
cheapbermudacruises.com
cheapblackdress.com
cheapblankets.com
cheapboatcover.com
cheapboatloans.com
cheapboatseats.com
cheapbodyparts.com
cheapbookcases.com
cheapbostonapartments.com
cheapbras.com
cheapbuildingmaterial.com
cheapbuildingmaterials.com
cheapbuildingsupply.com
cheapbullion.com
cheapbumpers.com
cheapbusinessloans.com
cheapbusinesswebhosting.com
cheapcampinggear.com
cheapcanoes.com
cheapcarbodyparts.com
cheapcarengines.com
cheapcaribbeanvillas.com
cheapcarrim.com
cheapcashadvance.com
cheapcashloans.com
cheapchicagoapartments.com
cheapclams.com
cheapclothingstores.com
cheapcocktaildress.com
cheapcollegeloan.com
cheapcollegeloans.com
cheapcollegeonline.com
cheapcolleges.com
cheapcollegetuition.com
cheapcomforters.com
cheapcomputerstores.com
cheapconsolidationloan.com
cheapcookware.com
cheapcrab.com
cheapcrablegs.com
cheapcruiseships.com
cheapcurtainpanels.com
cheapcurtains.com
cheapcutlery.com
cheapdecorations.com
cheapdeepfryers.com
cheapdesignerbags.com
cheapdesignerclothing.com
cheapdesignerdress.com
cheapdesignerfashions.com
cheapdesignerglasses.com
cheapdesignerhandbags.com
cheapdesignerperfume.com
cheapdesignerpurse.com
cheapdesignerwatch.com
cheapdishwashers.com
cheapdolls.com
cheapdomainregistrationhosting.com
cheapdrapes.com
cheapdressshirt.com
cheapdrills.com
cheapdrivingschools.com
cheapdumptrucks.com
cheapearrings.com
cheapeducationloans.com
cheapelectriccar.com
cheapengineparts.com
cheapengines.com
cheapestairplanetickets.com
cheapestbookprices.com
cheapestcellphones.com
cheapestcruisedeals.com
cheapestdaystofly.com
cheapestdestinations.com
cheapesthoteldeals.com
cheapesthotelinlasvegas.com
cheapesthotelprices.com
cheapesthotelrates.com
cheapesthotelsinlasvegas.com
cheapesthybridcar.com
cheapestinternationalflight.com
cheapestinternationalflights.com
cheapestlaptopcomputer.com
cheapestlaptopcomputers.com
cheapestlasvegashotels.com
cheapestmortgagedeals.com
cheapestmotorcycleinsurance.com
cheapestnotebookcomputer.com
cheapestpaydayloans.com
cheapestpersonalloans.com
cheapestplacestoretire.com
cheapestresorts.com
cheapestrings.com
cheapestsmartphones.com
cheapeststudentloans.com
cheapesttraveldeals.com
cheapeveningdress.com
cheapexerciseequipment.com
cheapfarmland.com
cheapfencing.com
cheapfishingequipment.com
cheapfishingflies.com
cheapfishinggear.com
cheapfishingline.com
cheapfishingrods.com
cheapfishingtackle.com
cheapflighttoflorida.com
cheapflighttonewyork.com
cheapflighttoorlando.com
cheapflighttovegas.com
cheapflooring.com
cheapfloridacarrentals.com
cheapfloridacondos.com
cheapfloridaflight.com
cheapfloridaland.com
cheapfloridarealestate.com
cheapfloridarental.com
cheapfloridarentals.com
cheapfloridavacationrental.com
cheapfloridavacationrentals.com
cheapflowerdeals.com
cheapfoodprices.com
cheapformaldress.com
cheapfreezers.com
cheapfurcoats.com
cheapfurnishedapartment.com
cheapfurniturestores.com
cheapgardenequipment.com
cheapgarments.com
cheapgasandelectricity.com
cheapgasgrill.com
cheapgenerators.com
cheapgiftbaskets.com
cheapgovernmentloans.com
cheapgrocerystores.com
cheaphandbags.com
cheapheatingfuel.com
cheaphockeyjersey.com
cheaphockeystick.com
cheaphomecomingdress.com
cheaphomefurnishings.com
cheaphomeheatingoil.com
cheaphomemortgageloans.com
cheaphomephoneservices.com
cheaphotelinnewyorkcity.com



cheaphotelinnewyork.com
cheaphotelinorlando.com
cheaphotelticket.com
cheaphouseplants.com
cheaphousewares.com
cheaphuntinggear.com
cheaphuntingland.com
cheaphurricaneinsurance.com
cheaphybridvehicles.com
cheapinternationalairticket.com
cheapinternationalfare.com
cheapjackets.com
cheapjewelrystores.com
cheapjumbomortgages.com
cheapkayaks.com
cheapkitchencurtains.com
cheapladders.com
cheaplaptopcomputers.com
cheaplastminutehoteldeals.com
cheaplasvegasdeal.com
cheaplasvegasvacationpackage.com
cheaplawnmowers.com
cheapleatherbags.com
cheapleatherfurniture.com
cheapliquorstores.com
cheaploanrates.com
cheaploghomes.com
cheapluggageset.com
cheapmanhattanapartment.com
cheapmanhattanapartments.com
cheapmanufacturedhomes.com
cheapmaternitydress.com
cheapmicrowaves.com
cheapmilitaryloans.com
cheapminivanrentals.com
cheapmirrors.com
cheapmodularhomes.com
cheapmortgagecompanies.com
cheapmortgagedeal.com
cheapmortgageprotection.com
cheapmotorboats.com
cheapmovingtruckrentals.com
cheapmufflers.com
cheapmusicdownloads.com
cheapnamebrandclothing.com
cheapnewyorkapartment.com
cheapnewyorkapartments.com
cheapnewyorkbroadwaytickets.com
cheapnewyorkcityapartment.com
cheapnewyorkcityapartments.com
cheapnewyorkhotels.net
cheapnewyorkrealestate.com
cheapnotebookcomputers.com
cheapnyapartments.com
cheapnycapartment.com
cheapnycapartments.com
cheapnytheatertickets.com
cheapoilprices.com
cheaponewaycarrentals.com
cheaponewayflights.com
cheaporientalrugs.com
cheapoutdoorfurniture.com
cheapoutdoorgear.com
cheapovens.com
cheapoysters.com
cheappacks.com
cheappainmedication.com
cheappants.com
cheappaperproducts.com
cheapparkas.com
cheappartydress.com
cheappetfood.com
cheappetmedications.com
cheappetmedicine.com
cheappetproducts.com
cheappianos.com
cheappicnictables.com
cheappillows.com
cheapplacetolive.com
cheapplanners.com
cheapplantsandflowers.com
cheapplantsforsale.com
cheapplantsonline.com
cheapplussizedress.com
cheappocketbooks.com
cheappontoonboats.com
cheappoolequipment.com
cheappots.com
cheappowerboats.com
cheappowertools.com
cheapprescriptionplan.com
cheapprescriptionplans.com
cheapquilts.com
cheaprealestateforsale.com
cheaprentalcardeals.com
cheaprouters.com
cheaprum.com
cheapsailboats.com
cheapsalonequipment.com
cheapscarves.com
cheapschoolbackpacks.com
cheapschoolclothes.com
cheapschoolloans.com
cheapschoolsupplies.com
cheapschooluniform.com
cheapsheercurtains.com
cheapshoestores.com
cheapshoppingchannel.com
cheapshoppingnetwork.com
cheapshowercurtain.com
cheapshrimp.com
cheapsinks.com
cheapsnowboardingjackets.com
cheapsnowmobiles.com
cheapsnowplows.com
cheapsoccerjersey.com
cheapsocceruniform.com
cheapsoundequipment.com
cheapsportequipment.com
cheapsportingequipment.com
cheapstoragebuildings.com
cheapstoves.com
cheapstudentticket.com
cheapsummerdress.com
cheapsweaters.com
cheaptablecloths.com
cheaptables.com
cheapteddybears.com
cheapteeshirt.com
cheapticketdeals.com
cheapticketstolasvegas.com
cheaptin.com
cheaptowels.com
cheaptoystores.com
cheaptropicalfish.com
cheaptropicalshirts.com
cheaptruckrentals.com
cheaptshirtprinting.com
cheaptubs.com
cheapunderwear.com
cheaputensils.com
cheapvacationhomes.com
cheapvaccines.com
cheapvanrentals.com
cheapvcrs.com
cheapvegasflight.com
cheapvehicleparts.com
cheapvillarentals.com
cheapvintagedress.com
cheapwallets.com
cheapwashers.com
cheapwaterfrontproperty.com
cheapwhiskey.com
cheapwhitedress.com
cheapwicker.com
cheapwindowtreatments.com
cheapwintervacations.com
cheapwomanshoes.com
cheapwomansshoes.com
cheapyogaequipment.com

Cheap Shopping Network.com

A member of the

Web Media Properties.com

Network

copyright © 2020 Cheap Shopping Network.com, All rights reserved.

email